One is not enough but it must start with one
I just finished watching the movie, Street Fighter, the legend of Chun-Li....I know it's an old movie but somehow after watching it, it makes me wonder what can one really do....while eventually in the movie, Chun-Li managed to kill Bison, the villain of the movie, there will be more that come after him...there will be those who will be even worse than him...so what can one really do??
It was also at the same time that I saw the letter sent by WorldVision regarding the Sponsor a Child program that I signed up.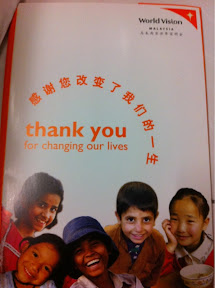 It makes me wonder what can the RM50 really do in a month? I finished up that amount by going for 2 movies during this holiday break that I have. It makes me wonder how many RM50 is actually needed for these people that do not have the benefits as we do. But one person could really just do that much...how many more 50s can one give...2,3,4 or 5 or even more but is that enough to help those that are in need.
It reminded me of a statement that my friend used to say, the world does not need a hero...the world needs a community.
I had a good break from work, to just spend time with family and YenLeng.
It was a good time that I have but it is time to get back to reality. A friend of mine told me the world is too corrupt for any good in it. True as it may, I believe the good must start in us. Even as I said this, I failed in a lot of ways to make a difference but it must start now.
The little difference we can make daily is what gonna change the world.
- Posted using BlogPress from my iPad