Maxis app: Buy 1 Get 1 FREE!!
Yesterday when I bought the tickets for the movie: Arthur Christmas, I went to look for the Maxis app on the Apple store on my iPad. I remembered in my conversation with Ben, he told me all you need is a maxis number and a PayPal account.
Well, I no longer have the maxis number but my brother is still using his Hotlink number so it wasn't really an issue.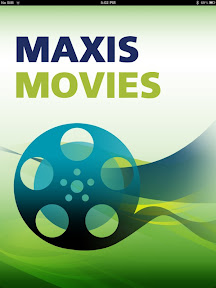 Well, it is awesome because technology definitely help us to save money to a certain extend. And it is user friendly.
When I open the app, I saw a few options on the bottom as shown on the image above...with the Buy 1 Get 1 FREE option in the middle right at the bottom...pressing it will lead me to the page where I could easily choose from the cinema and the movies that I want to watch.
Well, the process takes less than 30 minutes and I get to buy 1 FREE 1....pretty worth it when I bought 2 for 4 tickets. Of course, there is the RM1 online booking charges and a 50cents charges for the sms sent to the mobile but it is definitely worth the money.
I believe technology helps to save and this is one example of it.
- Posted using BlogPress from my iPad
- Posted using BlogPress from my iPad