Nice Indian food for lunch...
Alright...I guess I couldn't stop myself from blogging bout food for the first time...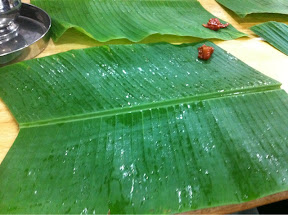 This is how they started...the leave and the sauce (dunno what you call that)...
Tada!! This is what you'll get...and after that, the curry...
Well, I wanted some meat...chicken and this is what I got...
Delicious and super full...I never thought it will be that big...haha!!
After that, this is for drinking after finished eating...apparently it helps to cool the body...
Anyway, time to get back to work....
- Posted using BlogPress from my iPhone