It has been a rather tiring week. Decided to play a pool game with Tom, Choon Foong and Aaron. Well, I have the free time since the tuition is cancelled as the centre needs to prepare for their Christmas celebration this weekend.
While waiting for my turn, I took some snapshot....Aaron and I partner this time around...
The three musketeers....haha!! Tom looks like he is suffocating...must be because of losing to Aaron and I...haha!!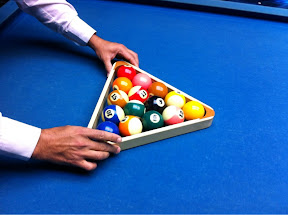 Choon Foong showing off how one should start playing pool....we played for about 2 hours and it costs us RM23....each of us about RM6...not bad...it is much cheaper than playing other sports...haha!!
Well, maybe next time we should consider badminton...haha!!
Anyway time to sleep....need to wake up early and go back Ipoh after work tomorrow...another weekend at home sweet home!!!
Posted using BlogPress from my iPad