Chinese New Year approaching....
Alright, so the Chinese New Year is approaching and I'm waiting to go back Ipoh. I'll be driving back later at midnight, about 3am....one of the reasons of doing so is to avoid jam...let's hope I made the right decision.
Anyway, it was a rather busy week at work before the Chinese New Year break and was really glad that Kah Hoe was in the team....there are a lot of things that I can learn from this experience.
Well, we did went for a simple "Lou Sang" session. (with some of my colleagues)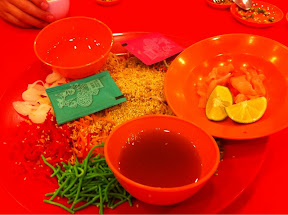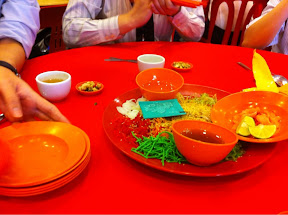 I went with Kah Hoe, Kelvin, Phoebe and Yong. It was a rather interesting lunch that we had that day. Probably because of the humour from Yong.
Besides this, I had a simple "LEPAK" session with the juniors and my housemates (excluding Aaron though). We went for a pool game and a makan session in mamak...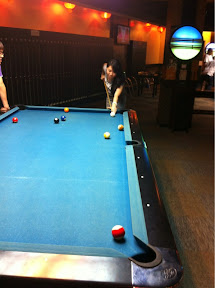 Introducing the Limited Edition Toyota...
Alright...it's not mine....I don't have the money to buy this car...haha!!
Well, didn't really take much photos that day but I did took some video so probably will be uploading it later when I have more time.
This week was also a busy week as this is the first week that I actually have the time to complete all the 3 classes on weekdays for my students.
Honestly, these kids are a bunch of energetic and stubborn kids....in a way, like many of us, while we were young, we rushed to finish our homeworks, even without truly understanding them sometimes. I guess this is the Malaysia education culture....it doesn't matter whether you understand or not, so long as you score A. I'm hoping to do something different with them. I hope I can help more than scoring A but to develop the right attitude towards studies and life.
David, a standard 4 student who is energetic...
These are some of the students who were there when I went there earlier. These kids stayed together under the same roof and they are like "abang adik" to one another. They are amazingly independent, washing their own clothes, have a schedule for cooking and washing dishes as well as the toilets. They also have a schedule to wake up so that everyone can shower before school. (only 2 bathrooms in a floor)
Well, they are lacking of revision books. All they have: text books and some work books for them to do exercises. I definitely believe they need more. I posted on FB requesting if more people could donate their old books or sponsor some. Anyway, I'll take it slow with all these....hopefully, the Chinese New Year will bring a renewed enthusiasm in me to teach and in them to learn...
I guess there's all for now...time to pack to go home for CNY!! Let's hope going back at 3am is the right decision!! :-)
Posted using BlogPress from my iPad