It's fun to have all the time for yourself
This weekend, besides going to work on Saturday until 4.45pm, I have all the time for myself. Well, initially it felt rather bored not having people to call me out. Most of the weekends I spent hanging out, either with friends or family. While those moments are amazing, I realize that I enjoy being alone and doing things on my own. (not that bad after all....)
I had the Sunday all to myself. I watched a movie, workout for about an hour, clean the house and make my own dinner. The joy of cooking for myself is amazing. I even have time to read books that I want to. (although I doze off halfway...either the book is not interesting or I'm damn tired).
Well, for those of you who do not have my Facebook, here is what I make for my dinner...
Well, it's quite nice for a first timer although it's a little too oily...but the rice was perfect...haha!! I know that cause I learned before...professional!! :-)
Then, I made myself Chinese tea...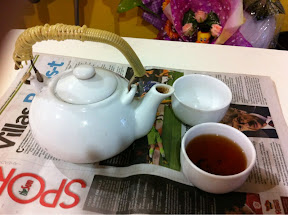 I took some time reading while enjoying the tea, and then I doze off for like 5 minutes before a notification on Facebook wakes me up.
Of course, it is different from drinking Hoegaarden with a group of friends, laughed and chilled.
This time, it is just me, with some light reading and Chinese tea....the feeling, AMAZING!!
Of course, I believe one must juggle their lifestyle...like what Warren Buffet said that he wished everyday to do "something foolish, something creative and something generous." I guess if one wants to do that, one must not limit the lifestyle to clubbing, drinking, or movies, or karaoke or whatever that one is into. For everything has its' values and let us learn to capture those moments.