Pizza party and football match
It wasn't always that we have such crazy moments but it is great to have amazing moments where we just sit down, get some delivery boy to get us pizza while we bought ourselves Pepsi and 100+...we call it pizza party!!
The domino pizzas..
Food...food...food...
Starving and Kal-son spoiled the pizza...
Check this out: Kal-son, Tom and Lip Wei are starving and decided not to wait for Aaron, Bee Geik and Alex...
Clement and his laptop...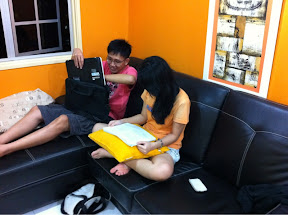 And Choon Foong and May Kee with their studies...OMG!! They still have exams!!
And to add to that, we have Manchester United against Manchester City football match...the football was part of it but the important thing is the people that were at present...
It was just a simple gathering...without much planning at all, but we live our lives by involving those that come along us in this journey...
Friendship is not something that last forever but the memories and values it left behind will forever imprinted in the hearts...
2012 is a new year and may this year be an amazing one for all of us...a toast for living!!
- Posted using BlogPress from my iPhone